Essentially Wealth – Winter 2020
ONE FINANCIAL RESOLUTION WORTH KEEPING
Boosting financial wellbeing is a perpetual resolution for many of us
Whatever your goals, the fresh beginning a new year brings is the perfect time to take stock of your finances and make resolutions to achieve them. A new study has concluded that the likelihood of successfully achieving your financial goals is heavily linked to receiving professional advice and the establishment of clear financial objectives.
It's all in the numbers
The research1 provides a quantitative measure of the value attributed to advice when it comes to helping investors reach their goals. Based on real-life data relating to over 100,000 advised investors, the US study found that eight out of 10 with a defined retirement goal had at least an 80% probability of achieving their financial objectives. So, advised investors typically met 80% of their financial goals. This study once again reiterates the significant value that can be gained from seeking professional financial advice.
On the right path
Determining your financial objectives enables you to think through exactly what you want to achieve with your assets. To really engage with your future, you need to think about what you want to do in the years ahead; where do you want to live, how do you envisage your life? This leads on to establishing clear, realistic objectives and goals, providing a distinct direction. And so, your plan takes shape. We can assess how much you will need and recommend the right investments. Regular financial reviews provide opportunities to monitor progress and adapt plans if necessary.
Happy talk
Please get in touch if your circumstances have changed or the new year has encouraged you to refocus your financial objectives. We can work together to ensure your financial goals remain realistic and to turn your financial resolutions into reality.
1The Vanguard Group Inc, 2019
ADVISED INVESTORS TYPICALLY MET 80% OF THEIR FINANCIAL GOALS.
UNIVERSITY – ADDRESSING THE CHALLENGE OF COVERING COSTS
Whilst awareness and popularity of alternative options for further education, such as apprenticeships and vocational courses, has increased in recent years, so too have the number of university applications.
Figures from the Universities and Colleges Admissions Service (UCAS) revealed a new record for English UCAS applications last year, with 39.5% of 18-year-olds applying. Closely matched were Scotland with 32.7% (not including Scottish further education college undergraduate applications) and Wales with 32.9%. Northern Ireland's rate was the highest at 46.9%.
UCAS also reported on the increase of applications from those in the UK's underprivileged areas:
"In England, the number of young people applying from the most deprived areas has increased 6% to 38,770. In Scotland, young applicants from the most deprived areas have grown by 3%. In Wales, applicants from the most deprived areas remained at 1,3902".
Building a nest egg
The steadily increasing cost of university life has often made headlines, with the need for students to cover the price of tuition and living expenses (assistance in the form of grants and bursaries are available in some cases UK-wide and for those eligible in Scotland).
So, it makes sense to plan ahead. A good place to start is by opening a Junior ISA (JISA) as early as possible in your child's life. If added to regularly, it will soon build up and provide a healthy lump sum to draw upon. In the 2019-20 tax year, £4,368 per child can be contributed.
Talk to us to ascertain the best options for your circumstances. We can advise on JISAs and other savings and investment products, to help provide for your loved one's financial future, whatever they decide to do.
2UCAS, July 2019
THE STEADILY INCREASING COST OF UNIVERSITY LIFE HAS OFTEN MADE HEADLINES, WITH THE NEED FOR STUDENTS TO COVER THE PRICE OF TUITION AND LIVING EXPENSES
A CHANGING RETIREMENT LANDSCAPE
Traditional views of retirement continue to be called into question, as the Office for National Statistics (ONS) reports growing numbers of people aged 90 or over.
With ongoing medical research and development, and improvements in public health, it's no real surprise that the number of people aged 90 and above keeps growing. ONS figures from 2018 show an increased total of 584,024 (up 0.7% on 2017).
A longer, more costly retirement
With so many now living longer, retirement funds have many more years to cover than ever before. As people are now anticipating an extended retirement, we are already noticing changes in employment with many continuing to work for longer, gradually withdrawing from the world of work and achieving a work-life balance that suits them, while still bringing home an income.
Care costs are an important consideration for those in or entering the retirement bracket. While living longer is a positive, it also means that an increasing number of people are living in a relatively poor state of health for more of their lives, which can have a significant impact on the funds set aside for a comfortable retirement.
Everyone's circumstances are unique. Don't underestimate the need to set targets and plan ahead
IN THIS ISSUE
YOUR CHANGING PROTECTION NEEDS FOR EVERY LIFE STAGE
Life is full of surprises and not all of them good. With this in mind, having the right level of protection in place is essential. Once protection is in place, it's worth reviewing it regularly to ensure you have the right cover as your circumstances change over the years.
A recent survey3 reveals that just 27% of consumers are confident of the levels of protection they have in place. The results also show that people tend to overlook potential health issues, instead thinking that an early death is more likely than a serious health condition.
Participants indicated that they think it's twice as likely they will die during their working life than have an accident that could stop them from working.
Financial pressures can cause huge strain. More than 50% of 18 to 35-year-olds say if their health prevented them from working, their savings or investments would last them less than three months.
Trigger points
Discussing your protection requirements with us ensures that you have the correct level of cover in place for you and your family. Certain trigger points, such as getting married, having children, moving home and taking on greater financial liabilities, are great prompters to reviewing the suitability of the cover you may already have in place.
3Royal London, 2019
IHT RECEIPTS CONTINUE TO RISE – PLANNING PAYS
A record amount of Inheritance Tax (IHT) was collected in the last financial year, according to HMRC data. In the 2018/19 tax year, UK citizens' estates paid a grand total of £5.4bn in death duties, an increase of 3% on the previous tax year.
This increase continues a long-term trend, as over the last nine years IHT receipts have doubled. The number of estates liable to IHT has been rising since the nil-rate band was frozen, in April 2009, at £325,000. Will IHT be earmarked for a shake-up in the March Budget? We'll keep you posted on any developments.
In the meantime, many people are keen to put in place the right plans and tax-saving strategies to ensure they leave as much of their estate as possible to future generations.
Take action
There are ways to minimise the amount of IHT that would otherwise be payable, including giving away assets in your lifetime, taking out life insurance policies, setting up trusts, making gifts from your surplus income, maximising the use of your annual tax-exempt allowances, or giving money to charity. We can help you assess your estate's potential liability and make appropriate plans to mitigate IHT.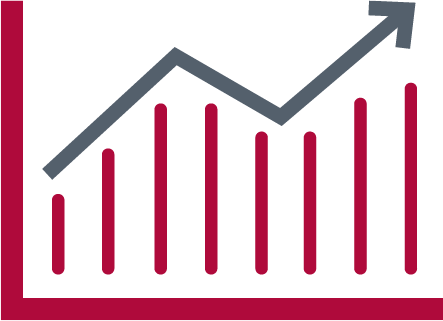 It is important to take professional advice before making any decision relating to your personal finances. Information within this document is based on our current understanding and can be subject to change without notice and the accuracy and completeness of the information cannot be guaranteed. It does not provide individual tailored investment advice and is for guidance only. Some rules may vary in different parts of the UK.